azaleasuites.co.id Ever heard of the term "staycation"? Well, it's basically spending time just around your hotel. Of course, you don't do it often- or else you'd mess up your schedule. A quality sleep is already a miracle, let alone a bathtub soaking, right?
Well, if you're living in a big city, equipping yourself with strong pressures from all over direction and tight work deadlines, you might not be able to really enjoy a holiday. If this happens, maybe you can consider living in an apartment instead. In addition to being practical, it also gives you facilities like those of hotels.
Jogging Track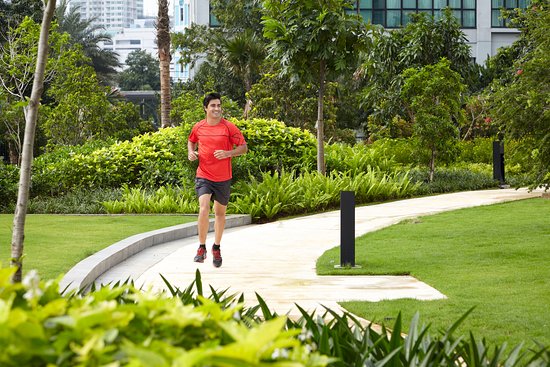 You can start your day by doing some jogging in the provided jogging tracks. Kill the laziness! Sports actually boost your spirit before going through the day. And don't forget to spend a few minutes to breathe some fresh air in. What a life!
Fitness Center
Having trouble waking up in the morning? Well, you can try going to the apartment's fitness center/gym. You can choose from a variety of equipment there. Up for a tutorial? There's YouTube!
Swimming Pool
Arguably, nothing comes close to swimming when it comes to holiday. You might not be able to do it every day, but make sure to spare some time on it- maybe once in a week. Refresh your body!
Green Area
Preferring a quiet atmosphere? Well, you can always go to a green area. Apartments usually provide one where you can spend your day in. Fresh air will calm your mind after some tough days.
Food & Dining
Looking for a different dinner atmosphere? Just go to the provided restaurant in your apartment. No need to get out, because your residence has provided everything you need.
read more
Bathtub Enjoyment
Well, if you don't want to go out, you can just spend your time in your bathtub. Instead of taking a shower, this time, try to pamper yourself for a moment. Want a more exciting experience? Buy an aromatherapeutic soap which will make you fresh.
All the facilities above can be found right at Azalea Suites Cikarang. No need to wait, go and immediately check the suitable units. Azalea has it all for you.