About The Jayakarta Group
The Jayakarta Group was founded by Syukur Pudjiadi in 1952 when it first began as a small import/export trading company operating in Indonesia. Alert and responsive to the challenges of rapidly changing and growing Indonesian economy, Syukur Pudjiadi penetrated into the much growing real estate industry when he quickly transformed the group into becoming one of the first major property developers that revolutionized the property industry in Indonesia.
The Jayakarta Group first entered the world of property as a hotel business in 1970 and soon transformed into a major propertyplayer with extensive involvement and further interests in hospitality and tourism, real estate development, general contracting, industrial estates, and financial services.
The Jayakarta Group was the first developer to build and operate the tallest hotel building with 21 floors in downtown Jakarta, the first to develop Jakarta's first privately owned residential and commercial building, and also the first to build tallest apartment building in the highly popular South Jakarta Area during its time. The Jayakarta Group played a substantial role in building tomorrow's indonesia as it dramatically impacted the nation's first 25 years of planned development.
A true pioneer of the property industry, The Jayakarta Group has realiably grown over the years and now comprises of three distinct property groups - The Jayakarta Hotels and Resorts. Marbella Hotel, Convention and Spa, and Pudjiadi Prestige Group. With over 45 years of diverse real estate experience and an expansive portfolio of strategically located quality properties, The Jayakarta Group certainly remains as one of the most prominent property developers with one of the most successful track records in Indonesia.
Awards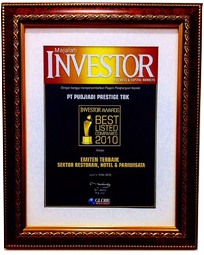 Best Issuer 2010 for Restaurant, Hotel and Tourism sector
from Investor Magazine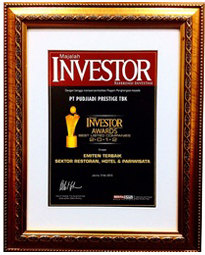 Best Issuer 2012 for Restaurant, Hotel and Tourism sector
from Investor Magazine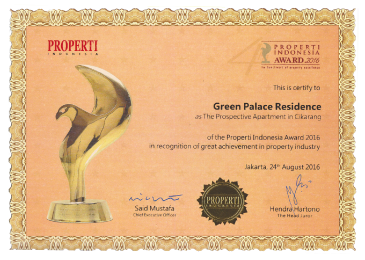 Green Palace Residence as The Prospective Apartment in Cikarang
from Property Indonesian Award 2016